Travel route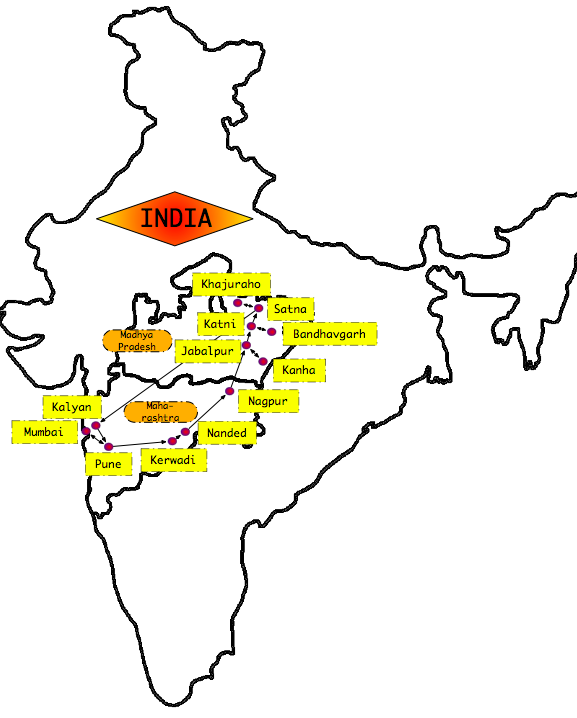 Wilu and I were meeting each other on the 10th febrary 2003 in Zurich. Our flight LX 154 to Mumbai departed at 12 am. We arrived at Mumbai at 00.10 am.

During the same night we travelled by train from Mumbai to Pune, where we arrived at 9.30 am.

On the 13th february we left Pune at 10 pm by bus.Our goal was Kerwadi, where Dreamland is situated.

We left Dreamland on 20th february. Our friends took us to Nanded with their jeep. There, we jumped into a night-bus, which left Nanded at 10 pm. The journey lasted 8 hours. At Nagpur, we changed into the connecting train to Jabalpur. It departed at 8.50 am and reached Jabalpur at 6.05 pm.

Already on the 23rd february, we took our luggage and travelled on. This time, we were confronted with an 8 hour jolting journey in a government bus, which (believing the time table) should have only taken 6 hours. This time, our goal was Kisli, the village at the entrance to the Kanha National Park. Completely exhausted, we arrived there at 7 pm.

For the return journey to Jabalpur on the 26th february, our bus took "only" 6.5 hours.

The travel to Tala on the 28th february was quite interesting. We already had to be at the station at 5.50 am. But our train was one hour late (by the way the first means of transportation, which departed heavily too late!). At Umaria, we initially wanted to take a bus to Tala. But we realized soon, that there were many jeeps, which were acting as taxis. So we decided to climb into one of them. We were permitted to live through a 45 minutes high speed drive together with up to 15 other adults, 5 children and a dog. Nice, isn't it :-)?

On the 3rd march we travelled on via Umaria to Satna.There we had to stay over night, because the next bus to Khajuraho departed only the next day. We took the very first bus at 6.30 am and arrived at Khajuraho at 11 am.

Our definitely longest journey took us back from Khajuraho to Pune. We travelled for about 32 hours. On the 6th march we took the bus to Satna. There we climbed into the sleeper train compartment of the Mahanagari Express in the direction of Mumbai. 19 hours later, we changed the train at Kalyan and drove to Pune. We arrived at Pune on the 7th march at 5 pm.

The luxury bus, which collected us at our doorstep at Pune on the 10th march and took us directly to the airport, was definitely the most convenient means of transportation we used on our whole travel. We enjoyed to drive on the new, almost empty highway.

The flight LX 155 departed on the 11th march at 1.40 am at Mumbai and landed safely at 6.20 am in Zurich.